Happy Monday!
This past weekend, Saturday Night Live was in some rare form: it was funny. While that may seem harsh, it's really not that harsh. However, the triumphant return of Bill Hader and former cast-mate and now co-star in the film, The Skeleton Twins, Kristen Wiig provided genuine laugh-out-loud moments: impressions ranging from Kathie Lee Gifford to a war veteran mastering puppetry and, of course, you know who…
One word, one name: Stefon!
FYI – When watching this clip, notice that when Bill starts to laugh about the mention of a certain individual multiple times (plus a doorman zinger), it's not rehearsed. Part of the story with Stefon is that the co-creator and co-writer of the character is John Mulaney and he would frequently try to trip his buddy up during the live show with new jokes/changes handed to him as he was walking out to the Weekend Update desk. Some of these changes and jokes, however, come without warning. This was one of those segments.
Need proof?
This was John Mulaney's twitter post from the weekend: "Sent to Rob Klein last night. Apologies for misspelling Cortese. They didn't tell Bill about any of it before air."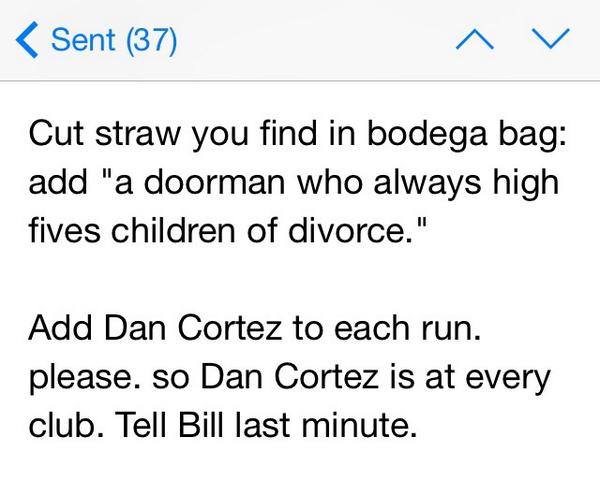 Here's to hanging out with Dan Cortese this week (apparently, the odds are pretty good)!
Posted on October 13, 2014, in Uncategorized and tagged Bill Hader, comedy, entertainment, funny video clip, John Mulaney, popular culture, Saturday Night Live, SNL sketch, Stefon, triumphant return. Bookmark the permalink. Leave a comment.