Blog Archives
After a year of hell, the state of soccer in Columbus–and the United States–is back on track.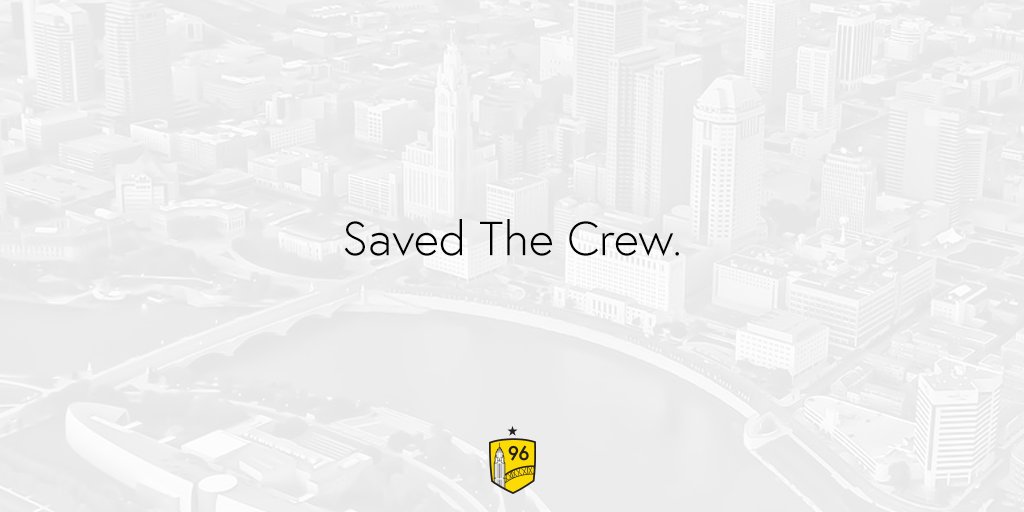 This time, when Crew fans chant that #HellIsReal, it's a good thing.
We're ready, FC Cincinnati.
Beginning this morning, reports were pouring in essentially stating the Columbus Crew–the original Black & Gold in MLS–will be #saved.
Actually, my mom tipped me off this morning via text while I was working on an unsuspecting Friday.
A mom who loves soccer and lives in Columbus? The best damn mom in the land! 
In a joint statement, the Columbus Partnership, Jimmy Haslam, and Dr. Pete Edwards, the Crews' team doctor, stated: "While there are many details to be worked out, our alliance is working diligently and collaboratively with [MLS] to keep the Crew in its community. We are very excited about the quiet but deliberate progress that has been made to date and will keep the community updated as this process moves forward."

-Jeff Carlisle, ESPN U.S. soccer correspondent
A rumored downtown stadium is also in the mix.
Major props to Ohio Attorney Mike DeWine and Columbus City Attorney Zach Klein for their legal work to #SaveTheCrew. And the major part–well, all of it–for this legal effort by Mr. DeWine and Mr. Klein is the Modell Law, which basically created a window for local investors to make a reasonable offer to keep the Crew in Columbus.
Quite poetic and perfect that the owner of the Cleveland Browns will be keeping the Crew in its hometown, isn't it?
My favorite reaction today from a Cleveland Browns perspective is that Jimmy Haslam was thinking, "If I can't find a good kicker, then I'll just buy a professional soccer team."
That was well played.
Deep down in my heart, I knew the Columbus Crew would somehow stay in Columbus. What did Joe Dirt say? "You can't have no in your heart." And now Columbus is reenergized to reclaim its rightful place as THE soccer capital of the United States, both on the pitch and in the stands (plus on Twitter).
After failing to qualify for the thrilling 2018 World Cup, the USMNT experienced an identity crisis, among other things. With the Crew staying in Columbus–the soccer capital of the United States–American soccer and the under-construction national team has a burgeoning identity rooted in the inspiring passion and relentless dedication of its fans.
Incredible.
The next step is revealing a sophisticated, creative and surprising tactical identity. That is still in the TBD-phase as the pursuit for a new head coach continues.
With the spotlight shining brightly on Columbus, the national media will now be forced to take note that goalkeeper Zack Steffen, defensive midfielder (and frequent USMNT captain) Wil Trapp and forward Gyasi Zardes make up the spine of the new USMNT. They come courtesy of the Columbus Crew. Just to be clear. And let's also not forget that if an American is chosen as the next USMNT head coach, it will be the detail-minded Columbus Crew head coach Gregg Berhalter.
It's not surprising that when U.S. soccer started to plot against the Columbus Crew behind closed doors that its national team suffered similarly along a parallel path. It worked in opposite fashion in the early part of this century with Dos-a-Cero when U.S. soccer and MLS celebrated the country's first soccer-specific stadium and all the talent that Crew Stadium was home to.
Time for the pendulum to swing back in the right direction and for the new Crew front office to be inspired by Lamar Hunt's winning legacy. Lamar Hunt can rest a little easier in Heaven tonight.
The Crew is being saved. Imagine what could happen to the USMNT if they begin embracing Columbus again with everything–and everyone–its capital city has to offer.
P.S. For good measure: 
C-R-E-W, f*$! you, Precourt, we SAVED THE CREW!