Blog Archives
Arjen Robben, the 35-year-old Mr. Wembley himself, has officially retired from professional soccer that began in 2000 with Dutch club Groningen.
"I have decided to put an end to my career as a professional football player," Robben said in a statement.
His statement included the following.
"It is without doubt the most difficult decision I have had to make in my career. A decision in which 'heart' and 'mind' collided."
The former Bayern Munich #10 — as well as the #11 for the Netherlands National Team and Real Madrid, and various other numbers for Chelsea, PSV and Groningen — has chosen to end his esteemed professional playing career after 19 years. Mr. Robben's exciting style, though painfully obvious, was painfully lethal for opponents. It didn't matter if every defender and their grandmother knew he was going to cut inside for a deftly-placed shot or pass, Arjen Robben succeeded with beautiful, spectacular goals.
And that feat alone is remarkable. Think about it. Imagine knowing exactly what you have to do to stop something from happening, but being powerless to stop it from happening?
That, ladies and gentlemen, is another level of world-class talent.
That, ladies and gentlemen, is Arjen Robben.
This blog post is difficult for me as Arjen Robben is my favorite soccer player of all-time. And now the left-footed maestro is done.
It's trying to put everything into words because I could go on and on and on…Instead, I'll put just a few things into words as an initial reaction.
I've written many blog posts about him with Bayern Munich and the Netherlands throughout the years, including one in late May as a reaction to his final chapter with Bayern Munich.
Here's an excerpt.
I actually got to see Arjen Robben play in the Allianz Arena for a Champions League game against Atlético Madrid back in late 2016. Bayern Munich won 1-nil on a Robert Lewandowski goal in, let's say, chilly weather. I believe the thermometer read 20-degrees.

Regardless of having to wear a couple extra layers, which was no big deal at all for the awesome prize of seeing Arjen Robben and Bayern Munich battle (and defeat!) Atlético Madrid in a Champions League match inside the stunning Allianz Arena in Munich. The entire experience was amazingly unforgettable.
His wonderfully impressive tenure leading the Dutch National Team as part of the golden generation with Wesley Sneijder and Robin van Persie won't soon be forgotten.
This golden generation for the Oranje played the beautiful game the right way. They deserved to win the World Cup, most especially the team from 2014. However, falling just short of ultimate soccer glory just seems to fit with the unfortunate fortune of the Dutch National Team: The best soccer nation to have never won the World Cup and the soccer nation other winners model their teams after in the same glorious pursuit.
With the aforementioned golden generation, the Dutch reached the semifinal of the 2014 FIFA World Cup, played in the 2010 FIFA World Cup final against Spain and reached the quarterfinals of the 2008 UEFA Euro tournament.
As posted on Bleacher Report's Twitter account today: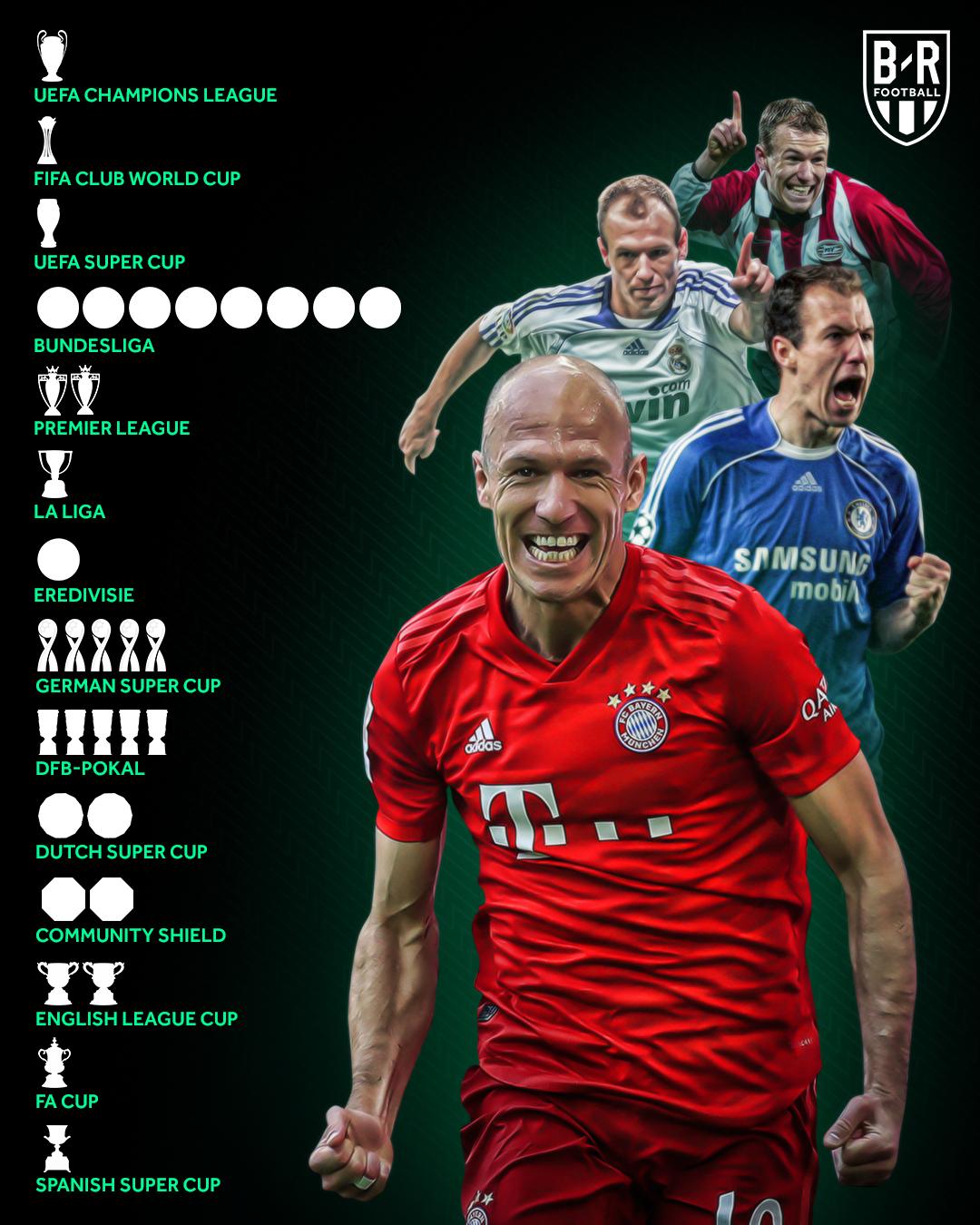 Arjen Robben will be remembered as a legend at Bayern Munich, highlighted by his iconic cuts inside and laser-focused blasts that rattled many nets across Europe. His greatest moment with FC Hollywood was his unforgettable game-winning goal against Borussia Dortmund in the 2013 UEFA Champions League Final with an assist from his Robbery partner-in-crime Franck Henry Pierre Ribéry in the 89th minute in front of over 86,000 fans packed into London's Wembley Stadium.
Arjen Robben will be remembered as a legend and an icon with the Netherlands. His lasting legacy will be as one of the — if not the greatest — wingers of all-time.
Thank you, Arjen Robben. You are an original, world-class footballer.